Tucson Interfaith HIV/AIDS Network is throwing an amazing party at the elegant Tucson Marriott University Park and you are invited! I hope to see you at Treasures for TIHAN, the live and silent auction that has been a fixture on my calendar for over 20 years. The entire event is fantastic, complete with a glamorous hostess, fun entertainers, and delicious hors-d'oeuvres. The best part, however, is how easily you can be a part of Treasures for TIHAN 2018!
Become a Sponsor for Treasures for TIHAN 2018
Becoming a sponsor of this prestigious event is the ultimate opportunity for individuals and businesses to make a mark in our community. There are many different levels of sponsorship and each level brings with it fantastic benefits. Here is your Downloadable Sponsorship Opportunities form to help you determine your level.
PRO TIP – Are you thinking about whether to become a sponsor this year? Stop thinking about it and follow the above link to sign up. Your sponsorship comes with advertising opportunities that you can only maximize if you sign up now. Every day that you aren't a sponsor means another missed day of targeted marketing.
Donate An Item for Auction at Treasures for TIHAN 2018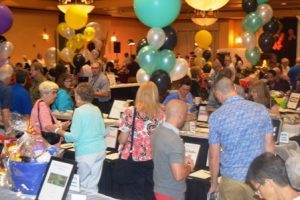 Donating an item is probably my favorite way to assist TIHAN and their worthwhile mission. You can buy a gift card from one of your favorite local shops and donate that card for auction. You'll share something you love while benefiting TIHAN's wide-range of services. Now that's a WIN-WIN!
Right now is the perfect time to donate! They are currently receiving donations until April 30th and there are lots of ways for you to donate auction items. Complete the Online Donation Form or contact friends@tihan.org for more info!
Discover Volunteer Opportunities at Treasures for TIHAN 2018
Do you want to be a part of this wonderful event? You can volunteer your valuable time in any number of amazing ways! From making phone calls to selling tickets to helping during the event, you can help make Treasures 2018 a record-breaking event. Sign Up Online to Volunteer or contact friends@tihan.org for more info!
PRO TIP – Are you a small business looking to make an imprint? Sign up a group of your employees to volunteer at this wonderful event to show your presence in the community. It's a great way to make a difference and get a little publicity on the side.
Have a great day!
Tony Ray 🙂