That faint buzzing sound you hear isn't the Junebugs… (well, it probably is 8-))  It's the sound of our servers struggling under the immense flood of traffic we've received for Tucson Gay Pride 2018!  It's gonna be the best event yet and we are excited to share everything we learn with you.  Read this article for everything you need to know about the Gay Pride Flickathon 2018 happening at the end of Gay Pride Month!
Gay Pride Flickathon 2018 – Get Ready!
Our friends at Men's Social Network of Tucson and The Colby Olsen Foundation have teamed up to bring 4 critically acclaimed films and documentaries for a free screening.  That's right, spend a day with these 4 amazing gay movies for free.  It's the perfect opportunity to have a good time while you learn a little bit about yourself and our community.
There are a few ground rules, of course.  Anyone and everyone is welcome, but there cannot be any alcoholic beverages and anyone obviously intoxicated will be asked to leave.  There will be a 15 minute intermission between each film, during which participants may walk about, stretch, or purchase food and drinks from the snack bar.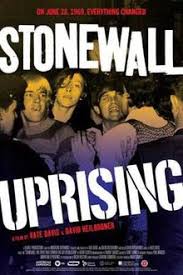 Feature Presentations
"PRIDE"
The inspiring true story of the summer of 1984 when much of blue-collar Great Britain was on strike and what it took for activists to stand together and form a union.
"OUT AND PROUD IN CHICAGO"
One city, one community, one human family. Profiling the history of Chicago's Lesbian, Gay, Bisexual and Transgender community from the 19th century to modern day. Gay rights are civil rights – watch history unfold.
"GAY AND LESBIAN RIGHTS – the ACLU Freedom Files"
Real stories of the battles LGBTQ peoples face for freedom and equality.
"STONEWALL UPRISING"
When police raided Stonewall on June 28, 1969 (49 years ago tonight), gay men and women did something they had not done before: they fought back. As the streets of New York City erupted into violent protests and street demonstrations, the collective anger announced that the gay rights movement had arrived.
Learn movie times and more detail at Gay Pride Flickathon 2018!