Listen to WRMX Radio Network Here on GayTucson.com Click the Play Button Below Now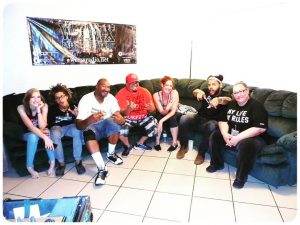 WRMX is Tucson-based LGBT internet radio station that streams 24-hours-a-day and 7-days-a-week. You can listen on your computer live from our web player right here! Or you can download their smartphone app so you can tune in anytime, anywhere.
** Pro Tip: Go Click our player above right now and check them out while you read the rest of our post.
Why internet based?
WRMX creators chose the station to be internet-based so it could be an international platform. Currently, listeners tune in from all around the globe from London, Japan, Tokyo, Nigeria, Mexico, Dubai and of course right here in the United States.
Since WRMX was founded with a mission to promote and elevate underground artists in the local community, then what better way, to promote that by making the station have an international reach?
You could say having it be internet-based is a nice loop hole to avoid sticky federal regulations limiting language and content, and the WRMX crew won't deny it. The appeal of non-regulated airplay goes deeper than wanting to drop the occasional F-bomb. It's about being able to freely share authenticity.
What Will You Hear?
On WRMXRadio.net you can hear the tracks you love, the hits you forgot that you love, and the new hits to get your day moving. You can expect entertainment, live mix shows, podcasts, and other special events from local Tucsonans and beyond.
If you are a singer, rapper, band or a DJ, submit your best work to WRMX.
​
Call (304)GO2-WRMX to request a song, or give a shout out during live shows, for booking information, or event details. Or use their online form to make a submission here.
WRMX Radio Network