Our amazing Tucson Gay Community is renowned for it's creativity and our dedication to throwing a hell of a party!  Our yearly Tucson Pride Blowout is a testament to our ability to plan and execute a fantastic event.  This year, the exciting team at TucsonPride.org created a wonderful 2018 gay pride comedy show benefit.  So dive into this article and learn everything you need to know about Rainbows, Unicorn Farts and Fairy Dust!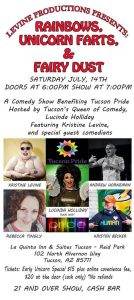 2018 Gay Pride Comedy Show – What is it?
The host this year is the inimitable Lucinda Holiday Rainbows.  Unicorn Farts and Fairy Dust is a hilarious comedy show featuring notable country-wide talent.  The star-studded cast includes well-known personalities like Kristine Levine (Portlandia) as well as fantastic local comedians like Andrew Horneman. Rounding out the cast is Kristen Becker, a New Yorker turned Southerner turned Gay-Rights Activist and Rebecca Tingley, a Fine Arts PhD.
2018 Gay Pride Comedy Show – How to attend?
Doors to the ballroom of the La Quinta Inn & Suites Tucson open promptly at 6pm, with the show beginning at 7.  You can get tickets either online or at the door, with early online tickets available for purchase at the discounted price of $15.  Should you prefer to purchase your tickets at the door, the price will only be $20 (cash only).
Cash bars will be throughout the ballroom. They will be offering delicious libations to go along with the laughs.  As such, this is a 21+ comedy show.  Everyone is welcome, just don't forget to bring your ID!
See You At The Show!
If you're looking for a fantastic time in Tucson, pick up a few tickets and bring your friends to experience this hilarious comedy show.  It's a fun event for an amazing cause (benefiting Tucson Pride) and I can't wait to see the Rainbows and smell the Unicorn Farts!
Click here for the full details for LEVINE PRODUCTIONS PRESENTS: Rainbows, Unicorn Farts and Fairy Dust!
Have a great day!
Tony Ray 🙂